Couple of excellent comics showing the disconnect between what website owners think we want versus what we actually want.
This is from the xkcd about university websites: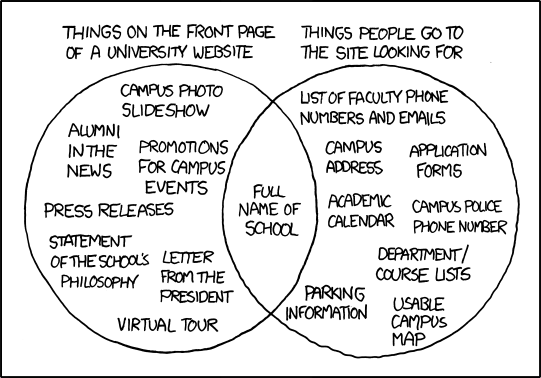 Here the Oatmeal explores restaurant websites and what customers want:

Then they give us an excellent representation of the majority of restaurant websites we come across:

When I talk with clients about their website I have two jobs. In the first job I am building a site that meets their expectations, hopes, and dreams. In the second job I am fighting their expectations and focusing on their hopes and dreams.
What I mean by this is that generally a business owner expects their website process to be like their traditional media process. Pixel perfect branding of their business image. I make it my job to break them from that cycle as much as possible and instead see their website as a door into their company where prospects and customers can start interacting with their business. This means putting the phone number and address at the top of the page so it is immediately visible and available on all devices. This means updating the site with timely information about your business and industry. In the last few years this has also meant thinking mobile first as over 10% of the traffic coming to your site is on a mobile device and those folks are ready to buy.
Dont make the errors pointed out in the comics above. Think customer first with your website and see the revenue grow.